Dear LemonStand customers: Here's a way forward.
Photo by Callum Skelton on Unsplash
The promising LemonStand ecommerce platform that won developers' and store owners approval for its flexibility and ease of customisation will now be shut down from June 5th.
What does this mean for retailers using LemonStand?
🌵 The commerce part of the website will be shutdown on the 5th of June.
🌵  A necessary migration towards an alternative shopping and check-out system, which would need to be done from scratch.
In other words, your shop will have to be rebuilt and not just renovated.
🌵  A necessary migration of products, coupons, orders, subscriptions, customer data, and page content to a new platform.
🌵  Reintegration with any third-party tools such as payment processing, marketing automation, order management, shipping management, etc.
...All without having negative impact on sales,  SEO ranking, and day-to-day operations.
To help you make educated decisions, here are some key points to understand.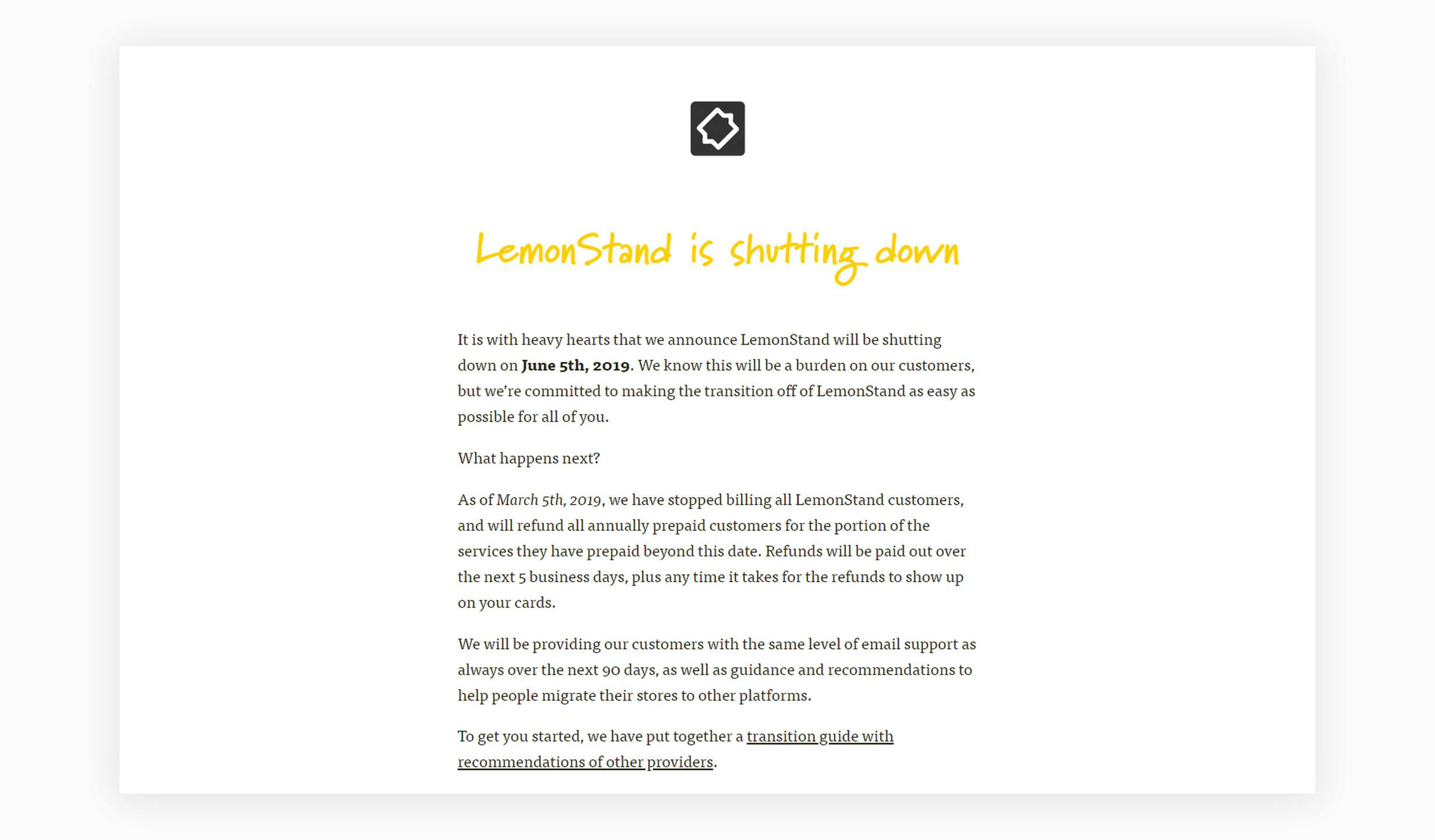 What made LemonStand a popular choice?
🍋 Richness and flexibility of features.
🍋 Comprehensive features, yet easy to use.
🍋 SaaS; meaning software is licensed on a subscription basis and is centrally hosted.
🍋 Customisable website themes that allowed retailers to customise their full store, including checkout.
🍋 No transaction fees.
🍋 Built-in CMS that enabled retailers to manage their own content and SEO.
Suggested next steps.
Bring in a professional to help migrate your commerce platform. If they know what they're doing, they will ensure that you get a new system up and running correctly, and on time.
What are the leading alternatives to LemonStand?
Shopify
Pros
👍🏽 SaaS - similar to Lemonstand
👍🏽 Has web-based theme customisation
👍🏽 Feature-rich for regular commerce operations
👍🏽 Large app ecosystem
👍🏽 No transaction fees
Cons
👎🏽 Checkout journey not customisable
👎🏽 Transaction fees - charges a fee on top of payment processing fees
👎🏽 Data is owned by Shopify. You are reliant on a third party to keep the store up and running.
WooCommerce
 Pros
👍🏽 Full CMS when built on top of WordPress
👍🏽 Open source - all aspects of websites can be customised, including checkout
👍🏽 Large ecosystem of plugins and developers
👍🏽 No transaction fees
Cons
 👎🏽 Not SaaS - requires paid hosting
👎🏽 Security, maintenance and updates are the store owner's responsibility
Running a subscription store?
We work with, and specialise in, subscription businesses. (Check this out.)
Since LemonStand was particularly good for subscription commerce, extra work needs to be done to deliver smooth transition to a new subscription system you will equally love.
[Tiger Digital's] attention to detail was superb, but what was more impressive was their ability to think outside the box and customise WooCommerce to help solve our subscription use case and improve our business processes.
M. CohenCo-Founder
, The Biltong Factory
The future of your business in one call.
We like to work smoothly and efficiently. That's why we don't waste our customers' time selling them stuff their business doesn't need.
Click here to chat with us to plan the future of your business or shoot us an email at studio@tigerdigital.co.uk
Speak soon!